Search found 3 matches for COPIED
Wed Mar 21, 2018 9:34 pm


Search in: News
Replies: 0
Views: 656
You have probably heard about Innoson in different mediums and instances, but what do you really know about IVM? What do you know about the manufacturing of motor vehicles?During the Techpoint Tours, Mr. Nnamdi Onusogu the General Manager of Innoson Nigeria Limited led us on a guided tour of the Innoson vehicle manufacturing facility.Located in Uru Umudim in Nnewi, Anambra State, the plant is a wonder in itself. We took a pictorial tour of the facility and documented an abbreviated version of the vehicle manufacturing process.
Tour
The facility tour proper kicked off at the car plant with technical details and assistance from Ekene Orazulike, Quality Control/Production Manager.
We started at the Welding Section which is regarded as the first official stage in the vehicle production process.
This particular welding section is for smaller buses and pickup trucks. Here, sheet metals are bent and folded, filed, then cut up to size with appropriate dimensions.
After the sheet metal is processed, they are placed on a jig and held down with clamps firmly. There is the parent jig that can accommodate the car's whole frame, then there's a side jig for the different sides of the bus.
When placed on the jig, a Spot Welding machine pieces the sheet metals together with sparks to mould the car frame. A Spot Welder is preferred over the basic welding machine for this because it does cleaner work.
During the welding process, a MIG Welder is used to reach nooks and crannies the Spot Welder can't reach.
When the welder is done, the car's frame is dropped from the parent jig for filing and smoothing all the rough edges. Mite steel is used for this finishing process because of its low carbon qualities.
Filing to smoothness is very important because if not done properly, too much filler will be applied and when the car is subject to extreme conditions like temperature or impact, it cracks and shows fault lines. So it has to be done well so little or no fillers will be needed.
Having people smoothen the car frame can be a tedious and time consuming effort so machines are mostly employed for this task instead. But Ekene says sometimes depending on urgency and complexity, 2 or 3 people are assigned to file.
After filing an overhead crane picks the now smoothened car frame and dips it into an extra large vat of Astro Coat — a water-based, acrylic, ablative coating with excellent fire, water, air permeability properties — to avoid rusting.
From the oven, it moves to the painting section where a maxer and sealant is applied. After this, a primer is applied so paint can go on smoother and last longer on the car frame. This primer is also a second anti-rust treatment, then the frame is put back in the oven and baked a second time.After the priming, deflections, holes and dents are spotted and fillers are used to cover them.
When this body work is completed, it is on to painting proper. The body is first smoothed out to improve paint adhesion to the car before it is coated twice. The second coat is put on few seconds after the first to avoid ugly paint runs.
Painting is done in a booth to avoid dust particles being trapped under paint surfaces.
After the painting, it goes through the oven again and then a quality control officer comes for an initial paint related inspection. If the officer notices anything like a sac or paint run, the vehicle is taken back to the painting section for correction.
If it's certified 'OK', it moves on to the production line for coupling of component parts.
Then there's an engine assembly department where engines are coupled.
Here, all parts and accessories are intact and in perfect working condition before they're mounted on the vehicles. This department is basically the quality control of engines.
From the engine department, the car is outfitted with air conditioning systems and then moved to quality control(QC).
I asked Ekene how long all these processes took on an average. He did not know.

It is usually not possible to calculate the time expended on a particular car as efforts are spread and dependent on a lot of factors. We produce on average 10 small buses everyday so there's no way to say exactly what time it will take to move through this process.

How are bigger vehicles — like the IVM 6601, IVM 6857 and IVM 6800 — made?

Ekene said except for a few variations in the process, all the other steps are the same. For bigger cars, materials are already pre-treated with Astro Coat as they cannot fit whole into the dipping vat.

Painting booths are also bigger for big buses.

For bigger vehicles, carcass and chassis are dropped with an overhead crane and assembled atop a mechanics pit to access engine area.

Vehicles like the IVM Jeeps that their chassis are together with the body are moved through a conveyor on top of the production line so workers can access underneath to fix parts and necessary fittings onto the chassis.

After this process that distinguishes smaller and bigger vehicles, all cars are moved to individual production lines where final components — like windshields, electrical wirings, lights, upholstery and plastic components — are fixed. The air conditioning systems are installed next.

Once the vehicle leaves its final conveyor journey, it comes to the alignment section for proper balancing of wheels.
From alignment, quality control which is regarded as the last and most crucial stage of the production process is next.

The officer in charge at Quality Control (QC) checks for conformity with general and company [Innoson] standards.

In QC, it is first taken for a rain test.

The rain test simulates extreme amounts of rainfall. If the vehicle does not leak in the rain test chamber, no amount of rainfall will ever penetrate it.
After rain test, quality control still checks that the vehicle conforms to general standards like airbags, seatbelts, and rear view mirrors. And also conform to Innoson standards like making sure sensors and minor modifications work perfectly.
If certified OK, the car goes for a road test outside the factory. If not, it is returned to the department concerned with the particular flaw for correction.
#COPIED
Thu Mar 15, 2018 2:00 am


Search in: Romance
Replies: 0
Views: 232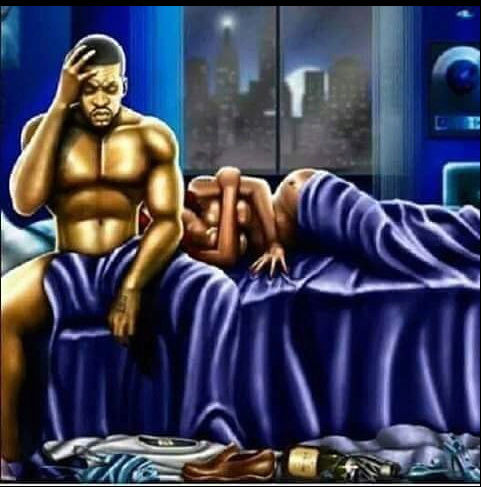 Guys: Cheating is the most disgusting, hurting and disrespectful thing you can do to the woman you claim to love. It changes the way she feels about Men, Love, Marriage and sometimes even God. It's a deep pain that rots her soul from the inside out. Don't cheat. If you're unhappy, Just leave!
#Copied
Something still amazes me and I still haven't understood why ladies switch off the light, draw curtain closs, lock their door to dress up and later Come's out half naked!!!
Pls, why is it so?
#copied